Energy experts and industry stakeholders all agree that Philippines should diversify and include renewable energy in electricity production to meet future demands of the population.
Cost of going green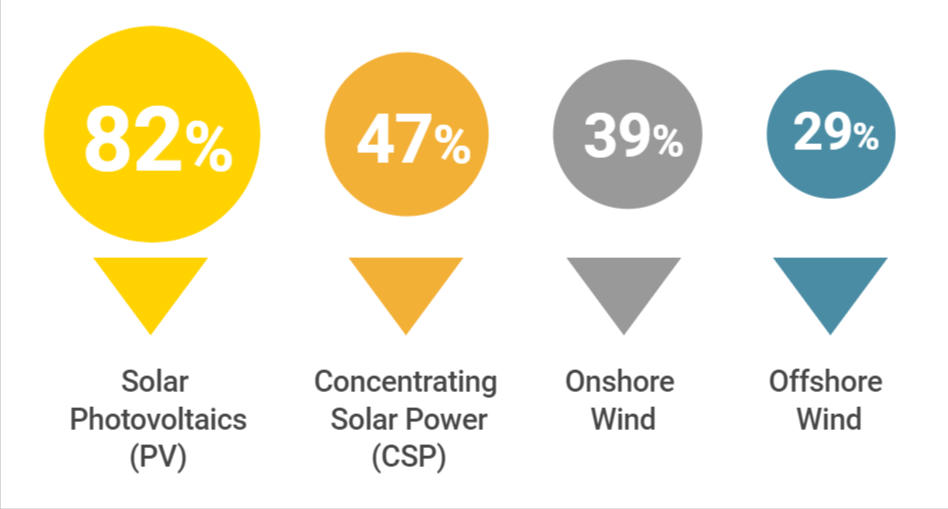 Falling power generation costs
Source: IRENA
Due to recent technological advancements and innovation in the energy sector, renewable energies are becoming more affordable. Given that Solar Energy cost has decreased and already at Php49/KWh up to Php15/KWh, other renewable energy sources are expected to follow.
With the country's continued reliance on fossil fuel which is expensive and imported, calls for a fast transition to clean energy is gaining ground.

Power generation cost in 2019
Source: IRENA
However, it is important to note that some stakeholders still consider renewable energy sources to be more expensive than current energy sources but according to Department of Energy (DOE) Undersecretary Jesus Cristino Posadas, "Renewable Energy will become cost-effective in the long run, as the agency implements a competitive selection of entities that will be allowed to develop local resources."
Calls for a quick transition
According to Energy Secretary Alfonso Cusi in a virtual forum organized by the European Chamber of Commerce of the Philippines and the Philippine Energy Independence Council (PEIC), the energy department updated the Philippine Energy Plan (PEP) 2018-2040 which is the agency's blueprint in accelerating the transition towards sustainable energy development.

Among the initiatives of the said plan is increasing the production of clean and indigenous energy sources, reducing wasteful energy utilization and ensuring the balance between reliable and reasonably priced energy services.
In an online press briefing by the Institute for Climate and Sustainable Cities, Energy experts noted that The Philippines should start building more renewable energy infrastructure now instead of relying on coal fired power plants.
Government Support
Even though coal remains a major source of energy in the Philippines, policy makers had made some steps in transitioning to renewable energy. Last June 2020, part of the house committee in climate change resolution on climate emergency response includes calls for not permitting new coal power plant
Senate Committee on Energy, Senator Sherwin Gatchalian also said that they support the transition to greener energy with 10 bills pending in the senate that will ensure a smoother transition to renewable energy.