What is Renewable Energy?

ExplainerOur Services Perhaps some of us can name some of the most prominent sources of renewable energy, but do we understand the purpose of each source? How and where it is used, how much energy it can generate, and it's benefiting?
Renewable energies are those generated from sources that do not deplete and can be replenished over time or those that can be recycled, typically from natural sources – like wind, solar, geothermal, hydroelectric, and Biomass Energy.
Sustainable Energy Solutions: The Figures
According to a report by the IEA, the increase in the amount of electricity generated from renewable sources increased from just over 13% in 2012 to 22% the following year.
ExplainerRenewable Energy Sources Also, they predict that this figure will hit 26% by 2020, and when it comes to total generation, renewables account for 19% of our current usage. For long-term forecast models predict that the usage will triple between 2012 and 2040.
The most common renewable power technologies include:
Solar (Photovoltaic Panels) 

Wind Turbines (onshore and offshore)

Hydro (from bigger dams to mini-hydro)

Biogas (anaerobic or aerobic digestion)

Geothermal Energy Solutions (ground source heat pumps)

Direct use geothermal

Deep and enhanced geothermal systems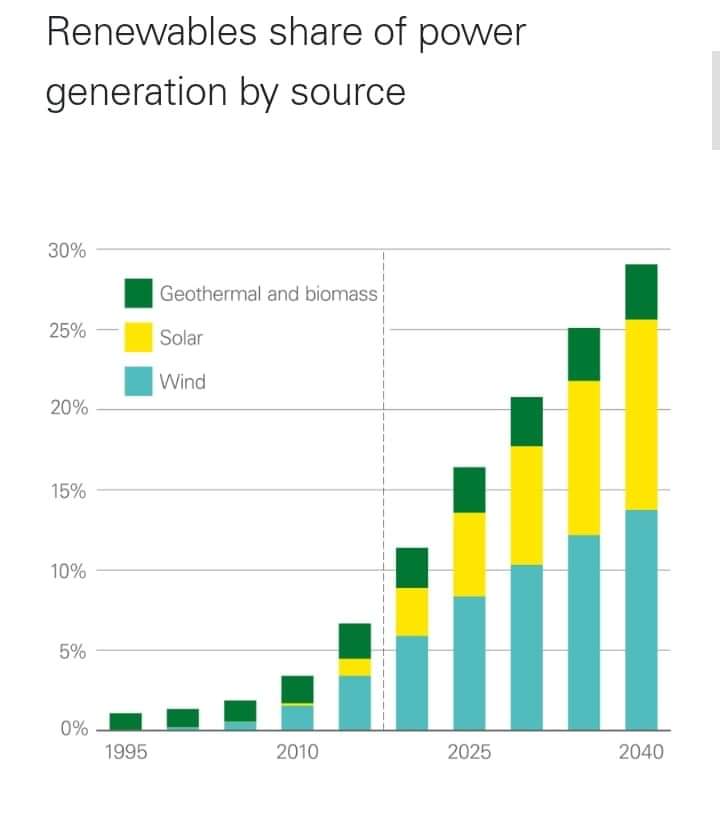 Why Do We Need Renewable Energy?
Carbon Emissions & Climate Change
Climate change and carbon emissions are the most critical problem in light of the COP21 agreement of 2016, and the changes we have observed to the climate in the last 150 years. These past few years, no part of the world has been unharmed by freak weather conditions. It has been recorded that most continents experienced high temperatures in summer, lows in winter, and increased the number of typhoons and hurricanes, dry spells, drought, and flooding where it affects every country.
ExplainerRenewable Energy Sources Renewable energy and the technology used to harness them are low carbon emissions. It means, once installed, it has less or no carbon output and can still produce the energy that we need. We cannot totally avoid carbon emissions as it takes resources to make a solar panel, build a dam, and so on. Still, with renewable energies, there will be a significant reduction in our carbon output.
Generating energy that produces no greenhouse gas emissions from fossil fuels and reduces CO2e.
Who emits the most CO2 each year?
Below is the treemap visualization to show annual CO2 emissions by country, and aggregated by region.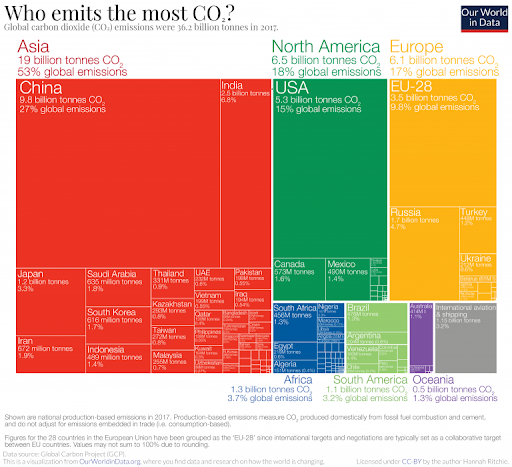 Energy Independence
Using more renewable energy helps in attaining energy independence — the ability to meet the energy needs domestically, thereby decreasing dependence on foreign nations and susceptibility to changing overseas energy prices. Plus, renewable energy resources don't run out so that the country could count on that independence over the long term.
Stability- When renewables are generated, the power produced is stable and useful. It is a reliable resource and jobs are created building stability within local economic sectors.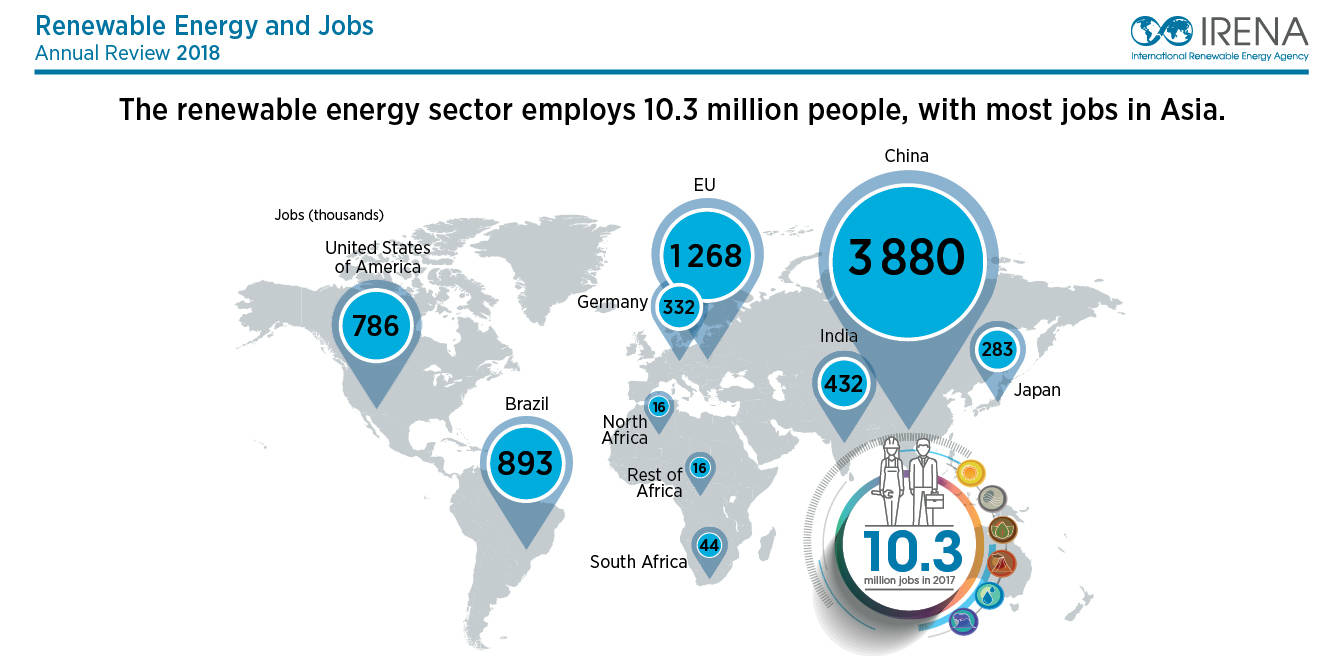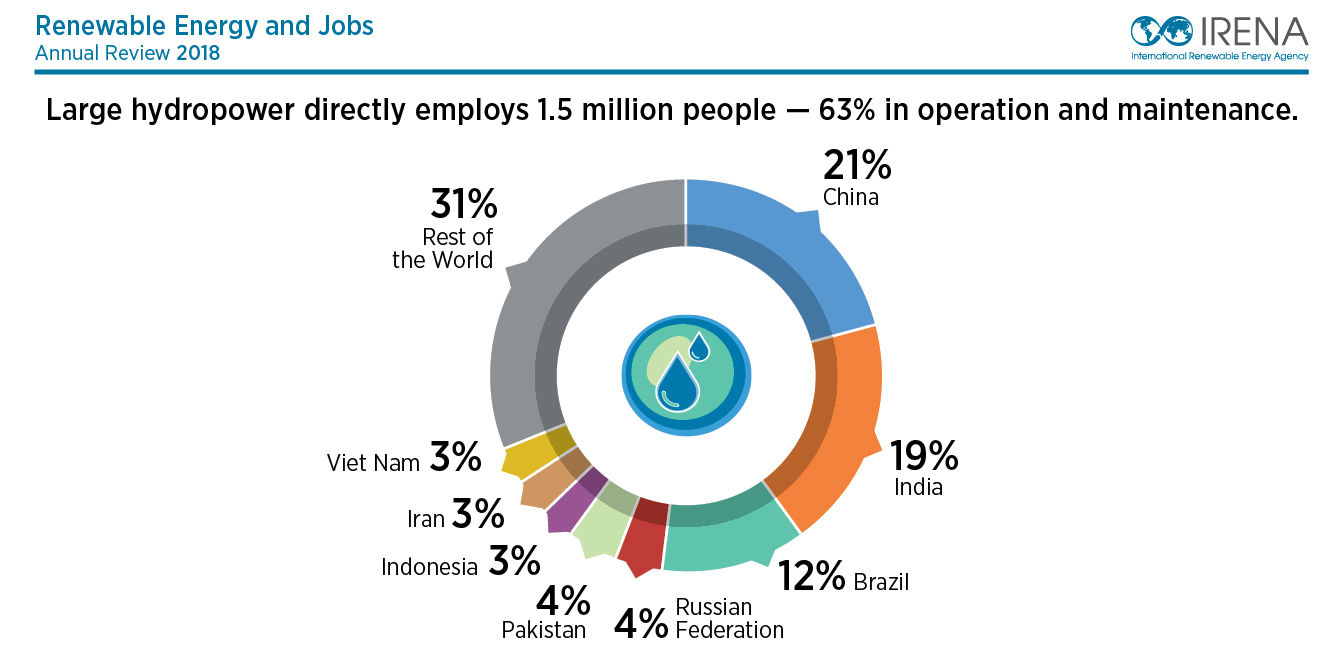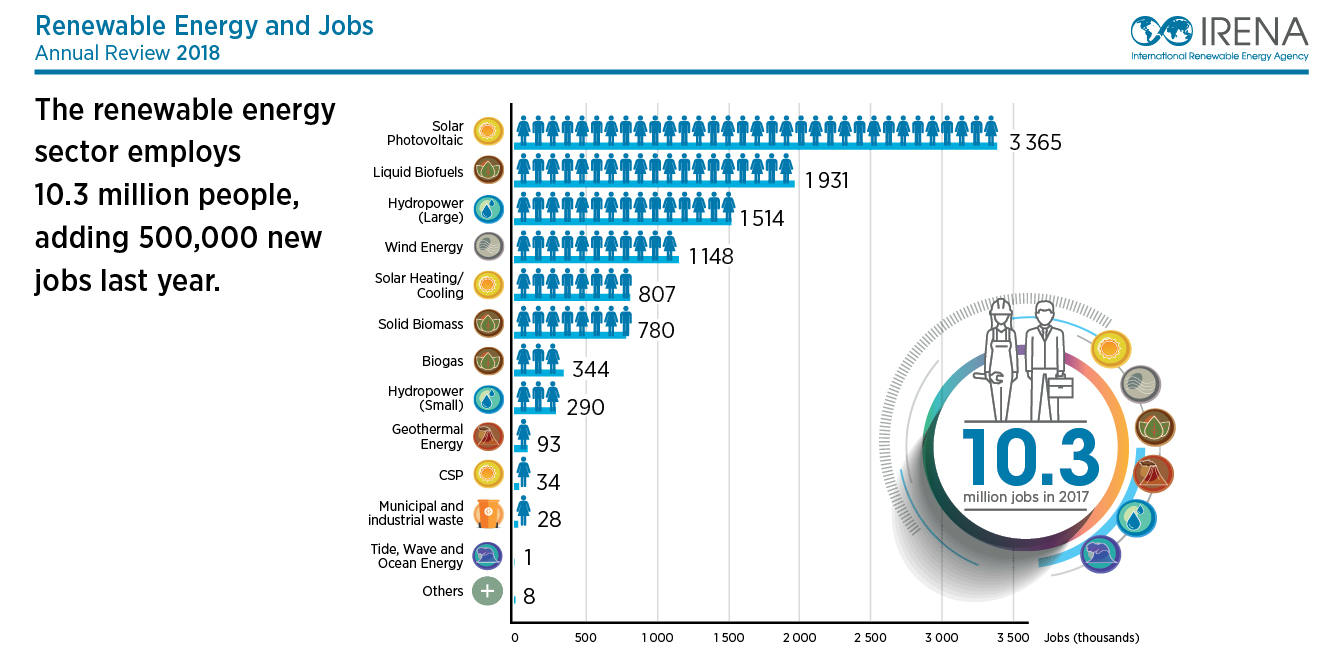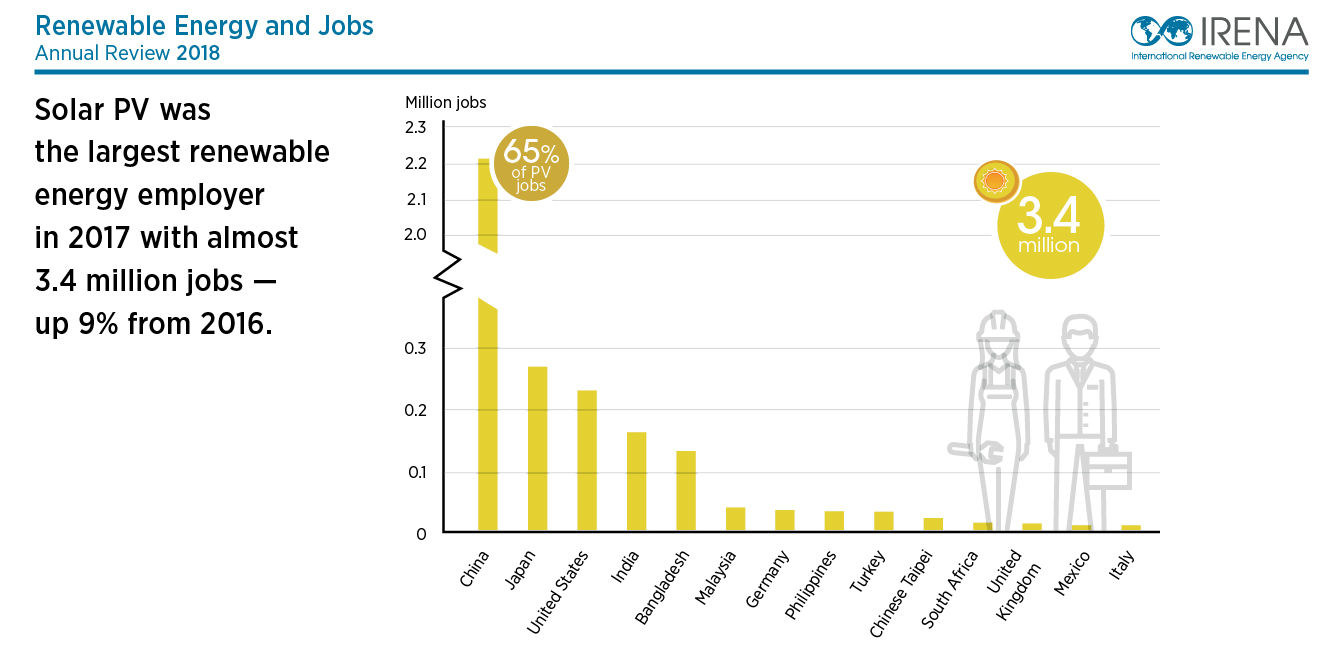 Energy Security – fossil fuels will run out and won't last forever, and supply is generally dependent on imports from overseas. Renewable energy sources are naturally occurring and won't drain.
We only have a limited amount of fossil fuels. The amount we use now isn't sustainable, and the problem is getting more severe as the global population increases.
Here's how long current fossil fuel reserves could last:
*Graph showing future energy reserves for coal, gas, and oil.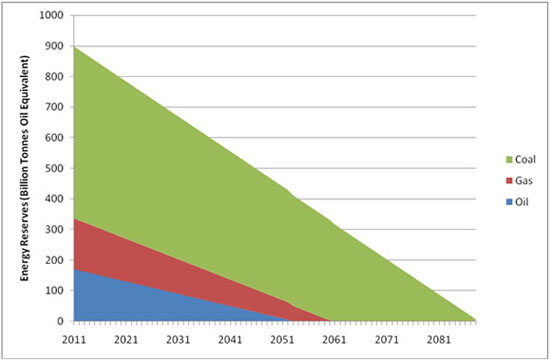 Improved public health– The air and water pollution emitted by coal and natural gas plants is associated with severe illnesses like breathing problems, neurological damage, heart attacks, cancer, and premature death. 
Clean energy technologies don't produce these adverse health consequences. Wind, solar, and hydroelectric systems generate electricity with no associated air pollution emissions. 
These are the effects such as the following may result from coal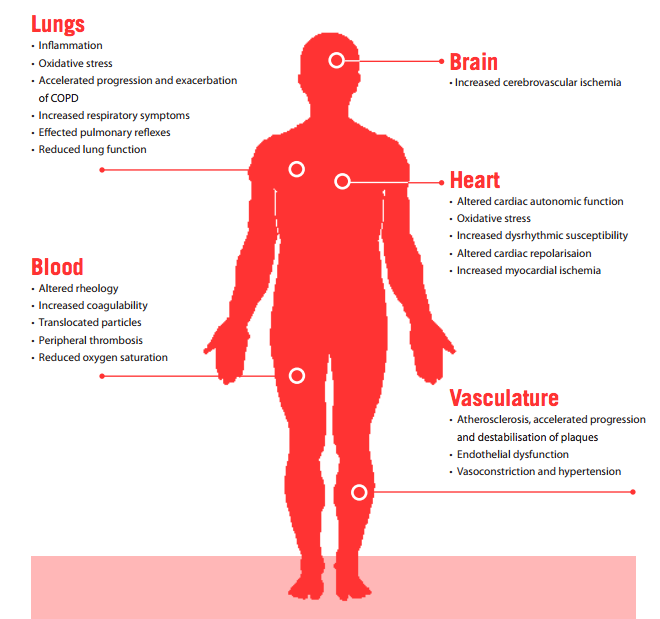 Stable energy prices– Renewable energy provides affordable electricity and can help stabilize energy prices in the future. Renewable energy is giving affordable electricity across the globe and can help maintain energy prices in the future.
Although renewable equipment needs upfront investments to build, they can then operate at a little cost. It is because clean energy technologies, the "fuel" is free). With this, renewable energy prices can be very stable over time.
The current price of WTI crude oil as of November 05, 2019 is $57.23 per barrel.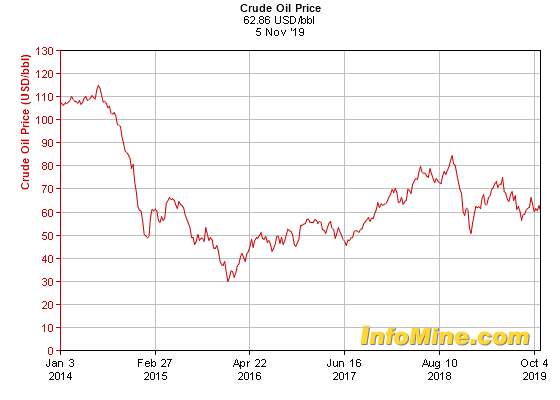 Conclusion
From all the information above, it is evident that renewable energy plays a vital role in both human beings and the environment. With abundant renewable energies, it becomes a great solution to the world's energy needs. Furthermore, renewable energy also has a lot of advantages in protecting the environment, decreasing the effects of global warming or pollution. Thanks to the substantial investment of government and efforts' scientists. The future is indeed bright with renewable energy.
Sources:
Our Data In The World- Who emits the most CO2 today?
https://ourworldindata.org/annual-co2-emissions

InvestmentMine - 5 Year Crude Oil Prices and Price Charts
http://www.infomine.com/investment/metal-prices/crude-oil/5-year/

Renewable Energy Jobs Reach 10.3 Million Worldwide in 2017
https://irena.org/newsroom/pressreleases/2018/May/Renewable-Energy-Jobs-Reach-10-Million-Worldwide-in-2017