Going green can be one of the most challenging practices for business. In the modern-day we live today, many corporate sectors and industry keep pushing towards renewable energy resources. In fact, they are now embracing more on sustainable practices. Not only because it promotes sustainability and environmental protection, but because renewables offer tremendous benefits that could boost the sector.
Alongside, renewable energy resources provide incentives to the business helping to reduce or cut down energy bills, which is alongside the myriad benefits of renewables. For this reason, many are turning to renewables, and statistics show that the number is rising. See image below: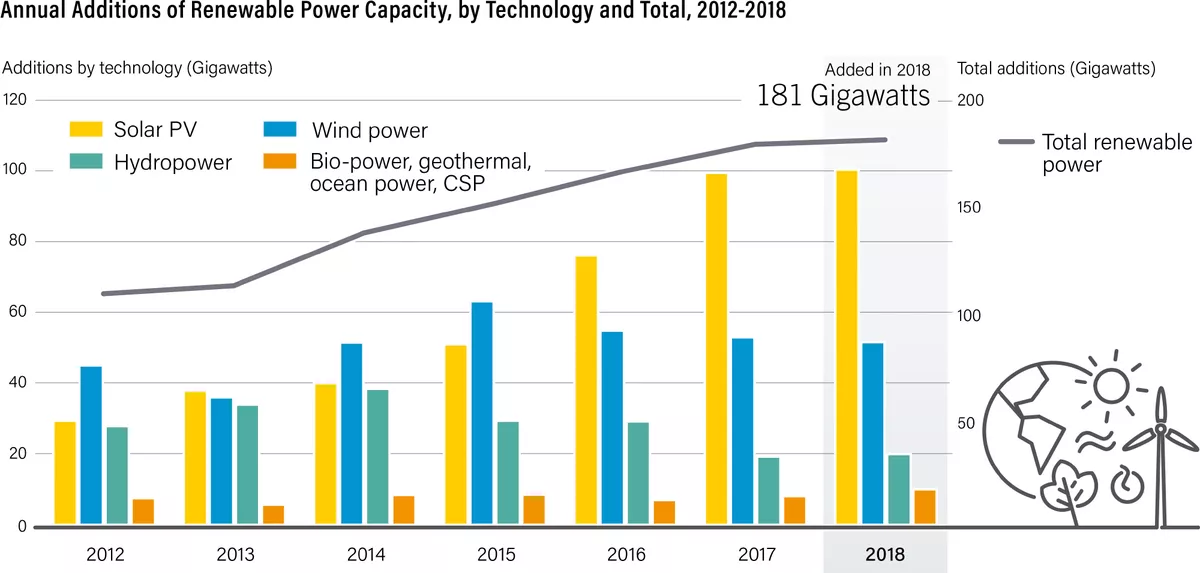 Green and Sustainable Initiatives
Have you ever wondered the current situation that our 'planet' is facing? In simpler words, climate change hits us that relatively affects not only the environment but 'everything' including the people, food and agriculture and the public's health. Due to the rising greenhouse gases emissions, companies and corporate sectors are now looking for initiatives and sustainable energy solutions that could be done. Accordingly, they have seen great interest in renewables. Currently, wind energy, solar power, biogas and other renewable energy resources are now competing against coal and fossil fuels.
As members of society, everyone must take their part on whether to continue doing the old ways or investing in a more sustainable way to power homes and to live in a pollution-free environment. Although it can be seen as an impossible one, policymakers and other energy companies like Reurasia are now doing their part in letting us know how eminent the benefits are.
Changes Bring Great Rewards
Switching to renewable energy benefits a company's bottom line and also helps ensure its continued sustainability in the long run. If you didn't know, many large companies are switching on renewables. Perhaps, you might ask why here's the reason:
Protection from Price Fluctuations
Increased Reliability
Green Energy Incentives
Increased Efficiency
Improved Investor Confidence and Reputation
Reduced Risk
Reduced Energy Bills
Solutions to Energy Crisis
Sustainability in a Changing World
Getting on board with renewable energy creates an additional incentive to younger generations. Aside from benefiting the business alone, the more people will feel the impact of climate change, and with that, they will increasingly demand to trade and work with companies whose practices they support. According to TRVST, there are big companies who are now switching to renewables, let's take a look!
TOP 4 Companies Switching To Renewables
Intel- Intel aims to reach zero waste by 2030 through renewable energy resource, this is according to Justine Calma of The Verge. Each year, around 3,100,000,000 kWh of wind, solar, hydro and biomass. This company is committing to cut down its greenhouse gas emissions and waste and to eliminate the trash it's sending to landfills.
Google- Tech giants have to keep pushing for greener energy. As one of the most innovative companies, Google is doing everything they can to make a difference. Each year, 735,000,000 kWh of green energy is used to power data centers. Google doesn't only value the impact it might cause, but the company is also seeking new technologies and sources of renewable energy that all of us can use.
Walmart- The same with the other giant companies, Walmart is also aiming to be supplied by 100% renewable energy. In fact, Walmart collaborated with Schneider Electric, the leader in the digital transformation of energy management and automation. Their collaboration will provide increased access to renewable energy for Walmart's U.S.-based suppliers, which will enable them to lead on climate action.
Sony- This company is planning that by 2040, all of the energy it uses will be coming from renewable sources. Sony aims to enhance corporate value as more investors and consumers place greater weight on environmental friendliness.
In Summary
Recognizable and big companies are doing everything they can towards making a change that directly benefits them in return. Companies might have identified that their contribution to Co2 emissions will be a significant contribution to the future generation. Switching to renewable energy resources must be the focus for the government, especially now that we are all experiencing a major backlash in the market industry.