WHY GO THE BIOGAS WAY?
Global warming and pollution are of significant concern today. The urgent need to address greenhouse gas emissions has led to several alternative solutions to fossil materials. These renewable energy sources are being promoted worldwide as an answer to the escalating climate change issues. Amongst these, biogas stands out because of its many economic and environmental benefits.
ExplainerSave huge amounts in operational costs. FREE ESTIMATE!Biogas plants are profitable for agriculture, the environment, and consumers of heat and electricity. Biogas is generated when microorganisms degrade organic material under anaerobic conditions. Biogas consists of methane (50–70%) and carbon dioxide (30–50%), and can be used as such for heat and electricity production or as traffic fuel after purification to biomethane.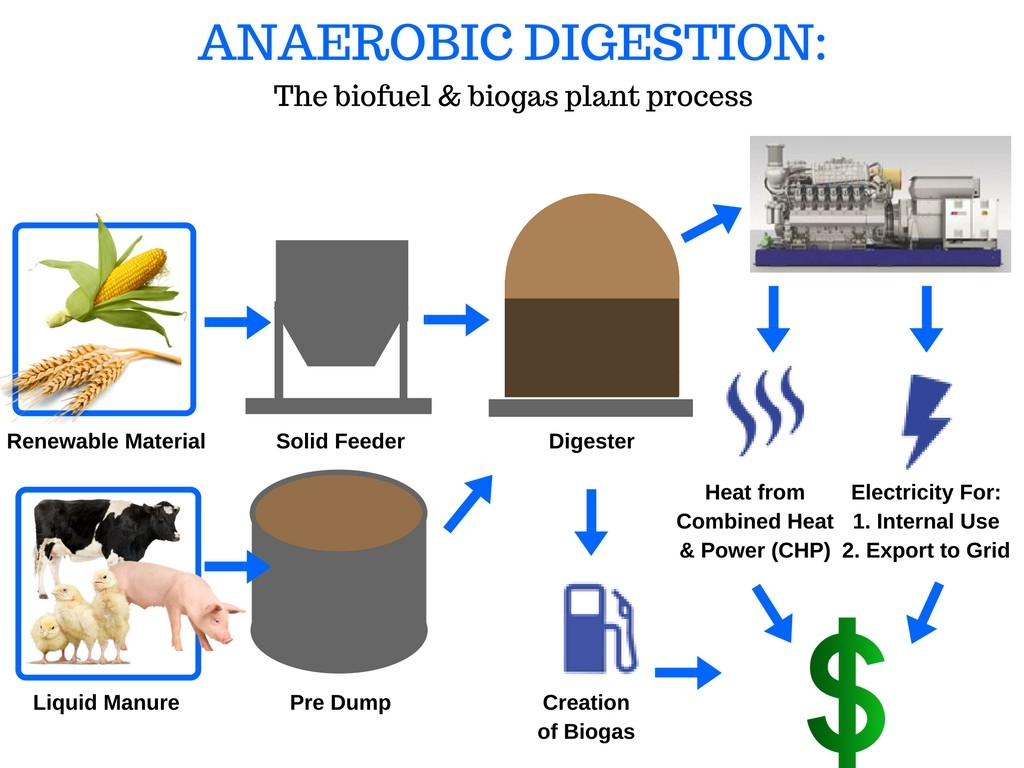 ECONOMIC BENEFITS
CREATION OF LOCAL BUSINESSES
By promoting anaerobic digestion, the expansion of new companies is valued, in addition to profiting businesses required in the transportation, processing, and valorization of fertilizing materials. These businesses often have the benefit of being local and creating profits in their region of implantation. In this case, local businesses expand and create added value in the city where they are located by creating jobs.
JOB OPPORTUNITIES
The benefits of setting up biogas plants open job opportunities. Whether for the design, construction, operation, maintenance, transport, and sale of products, many human resources are required.
Creating these jobs is essential for smaller cities that may have trouble in countering the migration of their citizens to large cities. Overall, job possibilities are decisive factors for cities to employ their citizens and attract new ones.
INCOME GENERATION
Using organic materials, which generally stack in landfills and economic resources, are used to generate value-added products. By generating electricity, heat, and biofuel and fertilizer from organic materials, new products are produced and marketed.
LOCAL ENERGY & BY-PRODUCTS
Biogas has the advantage of being often produced near its users, therefore lessening transport and handling costs. Also, agricultural businesses benefit from substantial savings when fertilizing their produce by using the fertilizer produced by anaerobic digestion.
ENVIRONMENTAL BENEFITS
CO2 Mitigation
Unlike fossil energy that is profoundly contaminating, biogas is a renewable energy source where the emission of carbon dioxide into the atmosphere is lessened.
Expatriation of Organic matter land filling
Organic matter estimates for about 44% of waste in landfills. By retrieving these materials, we significantly decrease the amount of our waste and extend the life of landfills.
CONSIDERATIONS
Ample Financial Investment
Implementing new technology requires investment, with the facilities, the acquisition of machinery, the purchase of land, and the operating expenses of any business. With new investments come profits, which means that a biogas plant is essentially a long-term investment.
ODOR HAZARDS
Odors are eliminated by anaerobic digestion. The fertilizer produced through anaerobic digestion is odorless. It is preferably unprocessed raw materials that can cause odors.
But, if the waste management is unsuccessfully planned, there is a risk of producing odors.
Does your business generate organic waste? With REURASIA's Biogas Energy Solutions, we can help you convert waste into energy reducing your company's carbon footprint and operational cost.

How much can you save on the operational cost by going green?
ExplainerSave huge amounts in operational costs. FREE ESTIMATE!Knowing now the benefits, you can use our online biogas calculator to evaluate the potential of your project! Request for an estimate so you will have an estimation of the costs and benefits that your anaerobic digestion project can generate!
Sources: http://www.gcesystems.com/anaerobic_digestion/