Prior to the devastating effects of pandemic globally, South-East Asia has become powerful when it comes to manufacturing, industries, and services for more than decades. Accordingly, energy demand also grew. According to experts, an average of 6% per year is seen as the fastest-growing energy rate.
However, reality hits. Because of covid-19, many were affected. Many businesses were affected. Not only that, but countries are also turning more usage to fossil fuels to meet their growing energy needs.
The latest Philippine Energy Plan was proposed to expand coal share in the energy mix from 52.1% in 2018 to 55.3% by 2040. This is to support industrialization. The percentage of renewable energy projects in the Philippines' generation mix dropped to 21% from more than 23% in 2018.
Shift To Clean Energy
After the effects of covid-19 in Asia, it has exposed many vulnerabilities of this fossil fuel-driven economy. In fact, according to the Asian Development Bank, the South-East Asian economy is now expected to shrink 3.8% in 2020 that will account for job losses in the Asia Pacific, for about 70% of the total as the World Resources Institute asserts.
As the problem arises, leaders must look for green innovations with coordinated actions with the local government units, financial providers, and energy consumers. There's a need to address the socio-economic problem that causes economic slowdown, record-high unemployment, high electricity costs, and health risks.
Low-Carbon Transition in the Asia Pacific
Thailand's Wind Farm. Photo by Asian Development Bank.
Global Data Energy releases a report Thematic Research: Renewable Energy (2020), which implies how renewables respond to the last 15 years. Fatih Birol, the IEA's executive director, also said that "Renewable power is defying the difficulties caused by the pandemic, showing robust growth while others fuels struggle."
Moreover, he added in near 2025; renewable energy is set to become the largest source of electricity generation worldwide. By that time, renewable energy is expected to supply over one-third of the world's electricity. Accordingly, wind and solar power are expected to make an enormous contribution in all.
Navigate how sustainable energy solutions like renewable can help each country to stand firm through the chart below.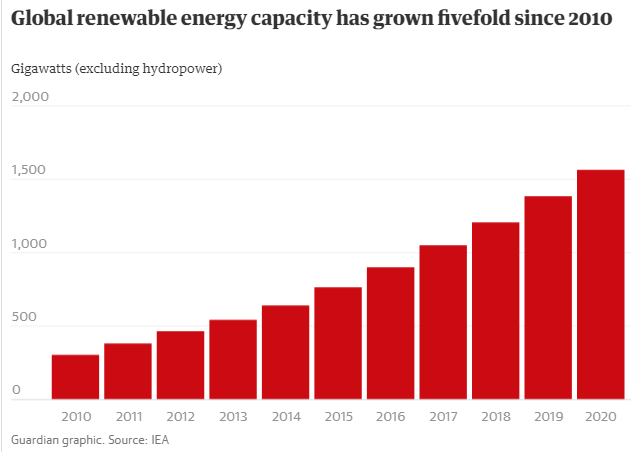 Building Back Better
The recent hit by the pandemic on humans and towards the economy has awakened officials and energy units to shift to clean energy as soon as possible. Why? Because it allows to:
Address energy crisis.
Create renewable energy jobs.
Reduce health risks.
Reduce electricity costs.
Achieve electricity access for all people.
Curve climate change.
Improve energy system.
Better protect people from unhealthy pollution and build a new economic foundation for green innovations with the positives of renewable energy.