Hydroelectric power is using one of the oldest principles to use energy from our environment at our advantage. The water mills were harvesting the river energy to press corn in Europe for hundreds of years. 
ExplainerHydro Energy The most economical and oldest methods of producing electricity, making it a competitive source of renewable energy.
Water power offers several advantages to the villages that they serve. Below are some of the benefits that hydropower has over other methods of giving us electricity.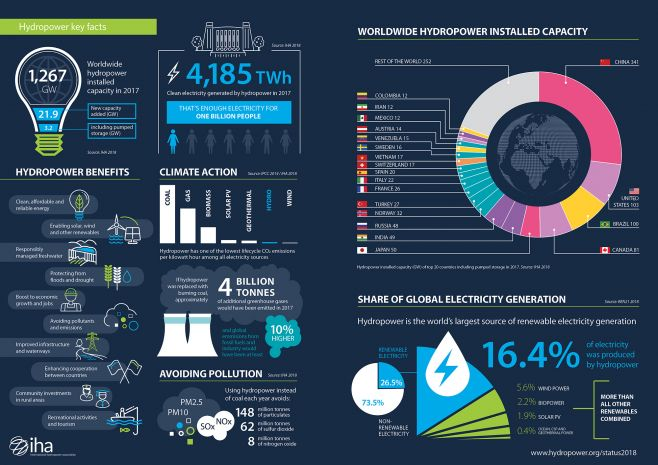 ADVANTAGES OF HYDROPOWER: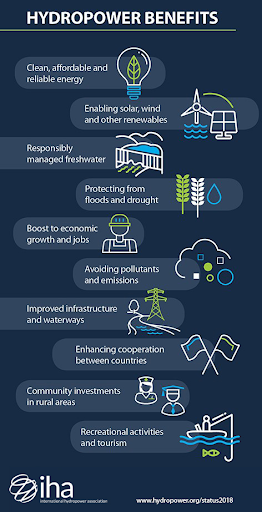 Since hydropower is fueled by water, it is a clean source, that will not pollute the air, unlike power plants that burn fossil fuels that emit CO2.
Hydroelectric power

is a national source of energy, supporting each area/town to produce their energy without being dependent on foreign fuel sources.
The hydropower creates reservoirs that contribute to a variety of recreational opportunities, like fishing, swimming, and boating. It is because some of the water power installations provide public access to the reservoir, allowing the public to make use of these opportunities. 
Some hydropower plants can speedily go from zero power to highest output. It is because hydropower plants can produce energy to the grid immediately. These hydropower plants serve as back-up power during major electricity outages or disruptions.

Aside from being a sustainable fuel source, hydropower also offers other benefits, such as flood control, irrigation, and water supply.
Environmental Benefits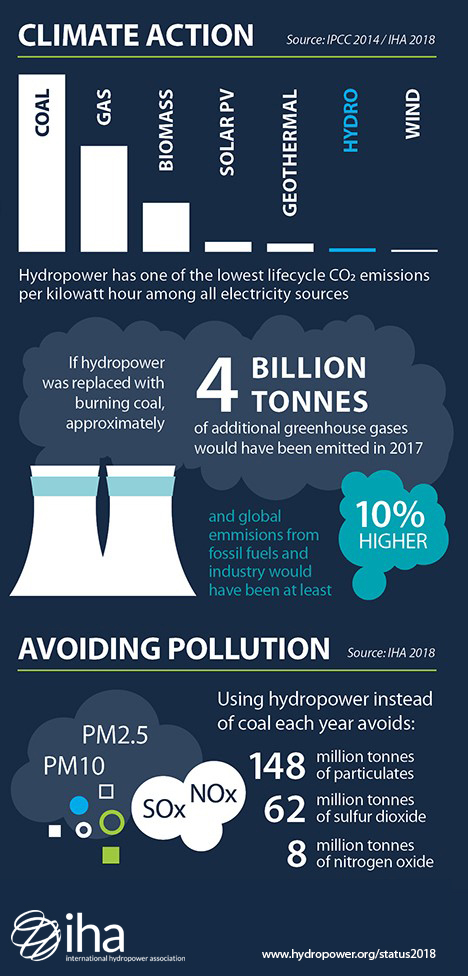 Flood control. Dams have an essential role to play in preventing the loss of life or property because of flooding. Reservoir levels can be decreased in the forecast of heavy rain lessen the communities upriver from dangerous flood levels.
Recreation. There are large reservoirs that are great for recreational activities like swimming, boating, fishing, camping, skiing, and hiking 
Great option instead of Fossil Fuels. Generating hydroelectricity releases a less amount of greenhouse gases than fossil fuels. Hydropower provides higher reliance on domestic energy.
Economic Benefits
ExplainerHydro Energy The reputation of hydroelectricity has been growing because the cost is less when it comes to operation and maintenance. Compared to fossil fuels, hydropower is a clean source of energy. Deriving power from hydro sources highlights prominently in the clean energy plans of several companies whose primary selling points include their green credentials.
 Employing hydropower has the most significant benefits. It could support us to generate more electricity faster, consistently and sustainably for the future.
Hydropower is the most efficient way to generate electricity. Modern hydro turbines can convert as much as 90% of the available energy into electricity. The best fossil fuel plants are only about 50% efficient.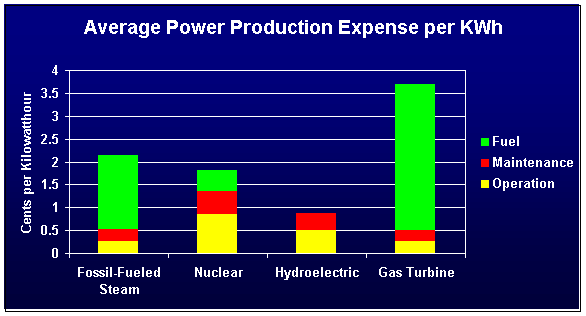 WISCONSIN VALLEY- Facts about Hydropower
http://www.wvic.com/content/facts_about_hydropower.cfm
See also:
Renewable Energy Implementation Support
Renewable Energy Maintenance Support