When we're finishing up a delicious cooked meal, we often take our plates over to the trash bin and scrape away the leftovers without giving it a second thought. Probably there is no other reason for keeping scraps after eating.
Others are making donations out of food scraps. How is that possible? Anyone can donate food leftovers to animals, even the stray ones we commonly found on streets, or to save it for farmers to make money rather than throwing it to the landfills. However, there are still scenarios where wastes are just hauled across streets which are gross to see.
This casual disposal of food leftover is typical throughout the world and countless other countries like the Philippines. But, what impact can this bring to the problem of global food waste?
According to the Eco India report, over 2000 tons of food is wasted every single day in the city of Manila. This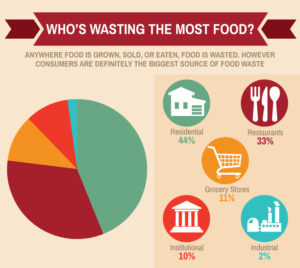 only creates a more contributing factor to the energy crisis in the Philippines and the poverty rate in the country as well. The data shows below that residential houses excrete more waste, followed by restaurants.
Another problem that is common in the country is the lack of energy supply. One out of three Filipinos lives below the poverty line and were only using a mere candle to lighten their home or even not, especially those who are living in rural areas.
The Philippine Institute for Development Studies asserts that around 16 million of the population doesn't have any access to electricity the same as other countries like Indonesia, Myanmar, Cambodia, Thailand, Vietnam, Lao PDR, and Malaysia. Right now, ASEAN countries have to identify the types of technical solutions that are best suited to fight the energy crisis problem.
But, what if I tell you what some sees as a problem, others see it as a business opportunity. Not only a business opportunity but as sustainable energy solutions. Scientists have been looking for answers to the food waste problem and energy supply. Fortunately, they found one way.
"Turn food waste into a valuable resource," said Roy Posmanik, a postdoctoral researcher at Cornell. What valuable can green innovations resource can be?
Studies found that food waste or leftovers are linked to the production of energy – electricity. Through anaerobic digestion technology, expired foods, spoiled milk, canned goods, old pet food, scraps, and other wastes combine in massive tanks to generate the gas. This way is also helpful to some farms that also generate an enormous amount of trash.
Rather than throwing the scarps away, one of the positives of renewable energy is the capability to produce biogas that can be reformed into heat and electricity.
"With an anaerobic digester you often have a high project cost upfront," Hoover said. Therefore, cities may achieve a high value on implementing anaerobic digestion that provides an outlet for the growing amount of food waste that cities want to keep out of landfills.
Geert De Clercq reported that many restaurants in Paris are starting to turn their food scraps into biogas. They have signed up for a pilot project to collect their food waste, which then will be used to generate biogas and produce electricity and heat.
As biogas becomes a feasible way to solve the rising energy crisis, the Philippines is looking forward to this technology. There are already small plants approved by the Department of Energy in the country. Some of which are located in Ilocos Sur that has a potential solution to the waste management challenges of handling a pig farm and on Laguna that uses rice straw.
This opportunity must not be neglected. Rather than dump waste away, turn this into energy that can be useful for the country.