With the recent problem with global warming and increasing demand for electrical energy, energy requirements for wastewater treatment have become the primary concern, recently. It is not only due to the increasing cost of electrical energy but also due to the effects of the carbon footprint of the treatment process.
The traditional municipal Wastewater Treatment processes are based on aeration, which is energy-intensive. But, due to extensive research, they have developed an alternative wastewater treatment process.
Here is a sample of WWTP
In favor of filtration and encapsulated denitrification, the process also uses waste biosolids to generate electrical energy which requires 15% of energy after pilot testing has been done. Furthermore, the process is energy positive, since biosolids can generate enough energy to operate the treatment plant. With this, if this kind of technology is implemented up to the municipal level, it could significantly decrease the energy use and mitigate the environmental impacts of wastewater treatment.
Energy for aeration involves a notable portion (60% average) of the operating costs of a wastewater treatment plant. According to the United Nations, if globally executed the energy efficiency measures would estimate for more than 65% of energy-related emissions savings up to 2030.
Wastewater Treatment Plants are considered to be one of the most significant industrial users of energy consumption of 2% of total global electricity globally used for the aeration of wastewater. No wonder environmentalists and the owners and operators of wastewater treatment plants must find efficiencies in energy use.
1. Existing Process Performance
Assess energy consumption and efficiency through an on-site survey to distinguish operational requirements, maintenance, and defective equipment. Analyze the energy consumption information to know the usage patterns and assess how energy efficiencies could be made. Perform audit recommendations through operational changes.
2. Operational Changes
Facilities that are already old should be replaced. Always have a regular check of the performance and condition of the equipment. It is because old equipment is ineffective, expensive to repair, and needs more energy compared to recent models.
3. Turning wastewater into renewable energy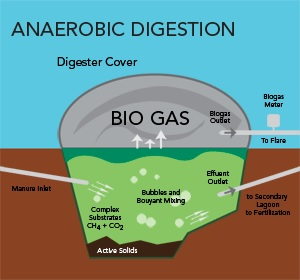 Turning wastewater into renewable energy using anaerobic digesters can help to increase energy efficiency. An anaerobic digester generates methane that can be used in a system to provide power to the facility at more economical costs
In summary, the wastewater treatment process is one of the most critical environmental conservation processes that should be encouraged worldwide. But we also have to consider the amount of energy powering wastewater treatment plants. That is why it is vital to establish an energy audit to recognize and implement energy-saving opportunities at their facilities. So, understanding of energy patterns and efficiency opportunities is the best practice that all wastewater treatments should adopt. By tracking energy usage, benchmarking, and addressing operational improvements can help reduce energy use.
http://powerstep.arctik.tech/index.php
https://www.sciencedirect.com/science/article/pii/S0959652617319145
https://www.foxthermal.com/applications/digester-gas.php