EU is now getting more electricity from renewable energy sources than fossil fuels, according to an annual report from Ember and Agora Energiewende.
According to the report, in 2020 renewable energy from wind and solar contributes up to 38% surpassing fossil fuels such as coal and gas which contributed 37%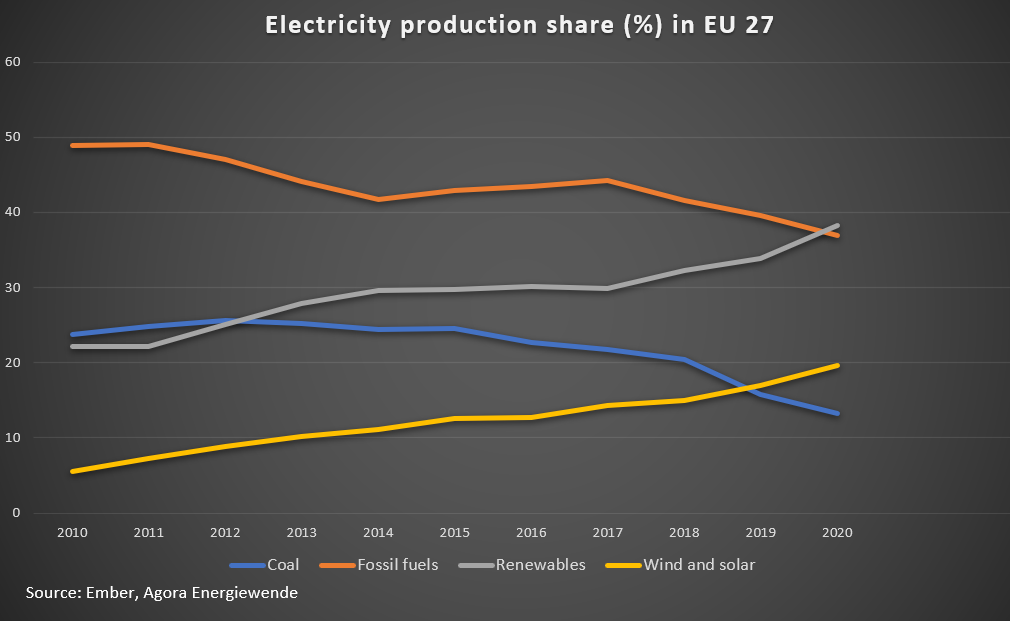 Spain and Germany also hit this important milestone individually and so did UK, which left the EU last January 2020. Denmark gained the highest renewable energy contribution which generates 61% if their electricity from Solar and Wind power. Czech Republic and Slovakia however ranks the lowest in contribution with below 5% power from renewable sources.
The report also showed that even though the COVID-19 pandemic had an impact in all EU countries and demand decreasing by 4% due to lockdown measures, its effect on the transition from fossil fuels to renewables was quite limited.
"Coal generation fell in almost every country, continuing coal's collapse that was well in place before Covid-19,"
Source: "Europe's Power Sector in 2020" by Ember and Agora Energiewende
This comes as new renewable energy projects came online and coal power sector declined. The report stated that coal-fired generation fell 20% in 2020, 50% since 2015. This is also indicative of the region's continued support for renewable energies and policies in decarbonization. With coal powered power plants becoming more expensive to operate than renewable energies because of the COVID-19 lockdowns, a lot of this plants are getting decommissioned and with the added push for these member countries to meet their emission reduction targets, this trend is expected to continue.
Taking all these into account, it looks like EU's commitment to reduce carbon emission is gaining ground amid global challenges and with it comes more optimism in the renewable energy sector.